Finances and Accountability
Karol Balfe, CEO, ActionAid Ireland
Anna Lee, Chair of the ActionAid Ireland Board
ActionAid Ireland is governed by a Board of Directors whose principal responsibilities are the setting and monitoring of the strategic direction of the organisation, monitoring compliance, ensuring the efficient and effective use of resources and the establishment of policy. No remuneration is paid to Directors for their services on the Board. Directly incurred expenses are reimbursed if claimed. ActionAid Ireland's Directors are required to declare any conflicts of interest at the start of every Board meeting. The Directors have each declared that there are no conflicts of interest with regards to their involvement as trustees of ActionAid Ireland.
Board of Director
Anna Lee (Chair from January 2019)
Dan Ryan (Director since November 2019)
Claire Callanan (Director since 2018, Company Secretary since 2019)
Agnes Kalungu-Banda (Director since 2014)
Greg Maher (Director since 2018)
James Foley (Director since 2018, Treasurer since November 2019)
Makena Mwobobia (Director since July 2020)
Moira Leydon (Director since February 2021)
Ben Burton (Director since February 2021)
Graham Roe (Director since February 2021)
Read full bios for our Board of Directors here.
Staff and Fundraising Costs:
As disclosed in ActionAid Ireland's Audited Accounts for 2020, total expenditure in 2020 was €2,779,662. Of that, 80% was spent on charitable activities: overseas development work, emergency response activities, overseas support costs and local campaigning and communications. The remaining 20% was spent on raising funds and on governance.
As of June 2021, ActionAid Ireland has 12 full-time paid staff members and two part-time paid staff members.
ActionAid Ireland's CEO was paid a gross salary of €75,000 in 2020. The company operates a defined contribution pension scheme which is available to all employees, to which both ActionAid and the employees contribute. The CEO is the highest-paid staff member and has no further benefits. The salary is decided by the Board of ActionAid Ireland based on the skills and responsibility required for the role.
We pride ourselves on keeping costs low and strive to find the best value in all that we do. This is our assurance to our donors and members to the public. Please don't hesitate to reach out to us on info@actionaid.ie or via our social media channels.
Our Accountability to Supporters:
Information concerning the projects which ActionAid Ireland supports.
Confidentiality and a choice as to whether you wish to receive further information from ActionAid Ireland in the future
You can be assured that as a charity supported by voluntary public donations ActionAid Ireland will always:
Prepare fully audited accounts which are available to you for inspection, in accordance with the Statement of Recommended Practice for Charities.
Adhere to the Charities Governance Code, as set by the Charities Regulator
Keep administrative and fundraising costs to a minimum
Adhere to the Dochas Code of Conduct on Images and Messages.  If you would like to provide any feedback on our implementation of the code, please contact Jo-Ann.Ward at ActionAid.org
For more information please see:
Triple Locked
We take our obligations around transparency and good governance seriously. ActionAid Ireland has achieved the "triple-lock" of good governance and reporting standards:
Each year we publish our annual audited accounts on our website in compliance with the Statement of Recommended Practice (SORP) under FRS102
Adhere to the Charities Governance Code, as set by the Charities Regulator
This has been recognised by Charities Institute Ireland, of which we are a member.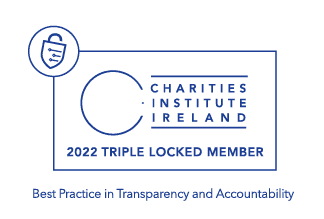 Integrity at Work

ActionAid Ireland is a member of the Integrity at Work programme, a Transparency International Ireland initiative that supports employers to foster an environment where staff feel safe to share concerns of wrongdoing. As part of our commitment to protecting workers who raise concerns, and addressing proactively wrongdoings, ActionAid Ireland has signed the Integrity at Work Pledge to ensure that workers reporting wrongdoing will not face penalisation and that timely appropriate action will be taken in response to the concerns raised.
Reserves Statement
Reserves help to maintain financial stability and allow a charity to meet its commitments, continue to undertake work, and deliver services, even when unexpected events or costs arise.
Why we hold reserves:
to meet our commitments when expenditure overruns or unplanned events occur;
to fund shortfalls in income, for example when income is delayed or does not reach expected levels;
to fund unexpected events calling on our services.
to fund future commitments or projects;
to respond to unexpected difficulties or crisis.
By holding appropriate reserves, we are acting to protect the charity from future challenges and uncertainties and changes in economic circumstances.
ActionAid Ireland considers it appropriate to hold four months of 'core' unrestricted expenditure as minimum reserve levels.
As of December 2019, we are holding reserves of c13.5 months' 'core' unrestricted expenditure. This higher level of reserves has been due to a lower investment in fundraising than was previously possible, mainly caused by a cessation in our door-to-door fundraising activity.
Following a thorough review to explore alternative fundraising channels, in November 2019, the Board of ActionAid Ireland approved a three-year fundraising strategy and plan to invest those excess reserves to build and sustain ActionAid Ireland's income base so as to ensure that the organisation is sustainable and able to support our international programmes into the medium term.
This plan will see us progressively over the next three years, reduce the reserves level towards the minimum level of four months.
Charities Governance Code
In November 2018 the Charities Regulator launched the Charities Governance Code, which sets the minimum standards, which everyone on the board of a registered charity, should ensure their charity meets in order to effectively manage and control their organisations.
The Charities Governance Code consists of six principles of governance. These are:
Advancing charitable purpose
Behaving with integrity
Leading people
Exercising control
Working effectively
Being accountable and transparent
The six principles are linked to the legal duties of charity trustees. The Code specifically aims to help charity trustees to put good governance systems and processes in place which will assist them in meeting their legal duties under charity law.
Good governance minimises the risk of fraud and other damaging practices – ensuring a charity is managed in a professional, transparent, and accountable way. This also serves to give confidence to funders and donors.
Charities are expected to comply with the code in 2020.  From 2021 charities will be expected to report on their compliance with the Code.
In 2020, ActionAid Ireland undertook a review of its compliance with the Charities Governance Code.
In July 2020, the ActionAid Ireland Board approved its compliance with the Charities Governance Code.  This code supersedes existing voluntary standards.
Good Governance
In 2020 ActionAid Ireland was a shortlisted for an independent Good Governance Awards 2020 by Carmichael.